Stelvision is a company based in Toulouse comprised of astronomy enthusiasts committed to sharing the wonders of the sky with the world at large.


About Stelvision
Stelvision was founded in 2008 by Bertrand d'Armagnac when he was still working for space industry giant Thales Alenia Space.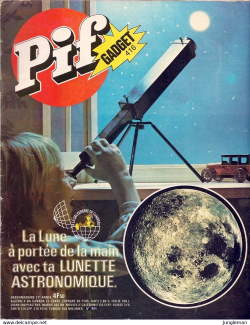 Bertrand has been passionate about astronomy since his childhood. His first observation instrument was a cardboard refractor he received from French comic magazine Pif Gadget when he was 8 years old… This was followed by a "real" 50 mm refractor two years later, and many telescopes in the years that followed.
What did Bertrand have in mind when he first began this entrepreneurial adventure? He wanted to create straightforward, user-friendly guides and provide quality advice about the starry sky for anyone interested in the wonderful world of stargazing.
Once the fact-filled website was up and running, Stelvision branched off into publishing with the Stelvision 365 Sky Map, which premiered its first edition in French in 2011. This quickly became a resounding success. While there were already many sky maps available for the general public, most of these had not evolved in 40 years. Stelvision offered a modern and complete version which functioned with the stelvision.com website.
Stelvision then published The Sky With Binoculars (currently being translated from French), an observation guide for discovering the sky with a simple pair of binoculars. This naturally morphed into offering the book as a gift set with Stelvision-stamped binoculars. And for those looking to explore a little further with a real telescope, Stelvision began offering its own Stelscope range in 2018.
During this time, the team grew, and Bertrand was able to realize his dream of sharing his passion for the night sky on a daily basis.
Meet the Team
Your Astronomy Experts
Bertrand has been passionate about astronomy for as long as he can remember. After a fulfilling career as engineer in the space industry, he created his website and published the very first Stelvision works.
Carine worked as a journalist for Astronomie Magazine for 10 years before joining the Stelvision team. An avid stargazer since her childhood, she enjoys introducing others to the fascinating world of astronomy.
Armed with a master's degree in Space & Planetary Science, Fleur turned towards science journalism. She writes all of Stelvision's articles on science and space.
Stelvision also relies on several other contributors:
Graphic Designer: Valentine Dubois
Web Developers: Dorian and Vivian Rodde
Communications & Marketing: Murielle Renard
Administrative Support: Isabelle Dugied
Management Consulting: Vladimir Iordanoff
Logistics: the E-Logik team in Toulouse
Printing: the Escourbiac teams in Graulhet and Braconnac
Web Development Support: Thomas d'Armagnac
Astrophotography: thank you to all our astrophotographers for allowing us to use their images on this website. The name of each individual can be found under their respective photos.
Our Approach
The entire Stelvision team is committed to the quality of material and advice provided on our website.
All editorial content is carefully reviewed and discussed before publication.
This website is dedicated to making astronomy available to beginners without yielding to simplistic shortcuts.
We therefore strive to provide a plethora of observation suggestions that can be performed with the naked eye or simple equipment.
Our publications are written and created by our team and printed in France.
All Stelvision equipment sold on our website has been tested and approved to make serious astronomy easily achievable and at a reasonable price. This is the case for our Stelscope range, which Bertrand had hand-selected in China himself (the only country that manufactures telescopes for the general public at an affordable price).
What does Stelvision offer?
Stelvision is unique combination of 3 different endeavors:
It is an online platform with suggestions, tools, and news about the wonderful world of stargazing, which can also be found in our newsletters and on our Facebook page.
It offers a Sky Map and a Map of the Moon, which have been made for practical use on the ground. Observation guides by binoculars and telescope will also soon be available.
It is a shop of equipment such as binoculars, refractors, and telescopes for beginner stargazers.
You can find everything Stelvision has to offer in our online shop.
Please note: we provide easy-to-follow instructions and unlimited assistance by email for all Stelvisionauts equipped with our material.
You can also find our publications in several stores around France, such as in Nature & Découvertes (over 100 shops), numerous bookstores, various specialized astronomy boutiques, dozens of planetariums, and multiple astronomy tourism sites.