Return to shop
Stelvision 365 Sky Map
Use this star-finder for fun and easy exploration of the sky!
  Number one in France with over 100,000 copies sold-now available in English!  
This rotating disk models your view of the night sky according to your specified time and date. Excellent accuracy for 40° to 55° latitudes and practical for 30° to 65° latitudes (includes almost all of the USA, Canada, and Europe).
Unique features: Additional pages inside the cardboard leaflet provide information about the major planets and deep sky wonders. The planets' positions are displayed on maps until 2023, with free updates available online. The guide to the deep sky also presents the most famous nebulae, galaxies, and star clusters of our universe. Though incredibly distant, these wonders remain easily accessible with binoculars or a small telescope.
This four-page booklet comes with a protective plastic pouch. Bring it with you anywhere for your star-gazing adventures!
30.4 x 22.5 cm | ISBN 978-2-9563417-5-8 | Stelvision Publishing House | December 2019
The two Stelvision maps for the best price with FREE shipping!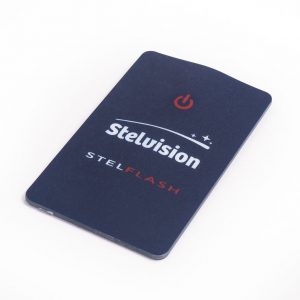 Make reading your sky map easy with this simple and handy flashlight. The red beam has the great ability to preserve night vision and outdoor observation conditions.